RESEARCH & CONSULTING SERVICES
Employer Branding
Understand what talent in your target demographic is looking for in an employer value proposition (EVP) and company culture.
• Attract the right talent
• Improve retention
• Lower turnover
• Increase employee engagement
• Achieve employee satisfaction
Tell us about your project or call us at (888) 750-0529.
Employer Branding Consulting Overview
What is employer branding? Why is employer branding important? And how does your company position itself as an employer of choice for today's talent?
We help our clients understand the key drivers that make their organizations the most attractive places to work, leaning on geographically-relevant and industry-relevant market research and insights.
The best employer brands and the most competitive employers are relevant to specific worker demands. Understand the granular details that make workers in your area and in your industry tick with our employer branding SWOT analysis, tailored specifically for your organization.
---
Data-driven insights
Millennial workers in the Northeast show a preference for paid vacation time over 401(k) as part of their benefits packages.
---
Using SWOT Analysis for Employer Branding Strategies
As a business leader, there is nothing more frustrating than watching top talent choose to go and work at your competitors instead of with your organization. The workforce is becoming more difficult to navigate. As you deal with the changing times, managing turnover and developing a culture of striving for excellence is getting more difficult by the minute.
In today's labor market, the best talent is choosing to go and work with companies that are offering different value propositions than what was successful just a few years ago.
With our SWOT analysis for talent acquisition and employer branding consulting, we combine an in-depth look at your organization's strengths, weaknesses, opportunities, and threats with market research and a robust set of benchmarks gathered over 20 years of experience in the human resources, talent acquisition, and hiring space to provide you with the relevant insights that will take your employer brand to the next level.
Are you tired of sending out job offers only for the job candidate to choose to go and work at a different company? Are you frustrated with your talent pipeline and inability to access the type of quality candidates you need? The insights and intelligence developed as part of a SWOT analysis for employer branding are the solution.
Why Do You Need An Employer Branding Consulting Agency?
The hiring landscape has changed drastically over the last few years. Employees expect different things from their employers than they did even 12 months ago.
Our SWOT analysis for human resources, hiring, and employer branding purposes unlocks geographic-level insights around worker preferences so that you can tailor your employer brand and value proposition for relevance in your market.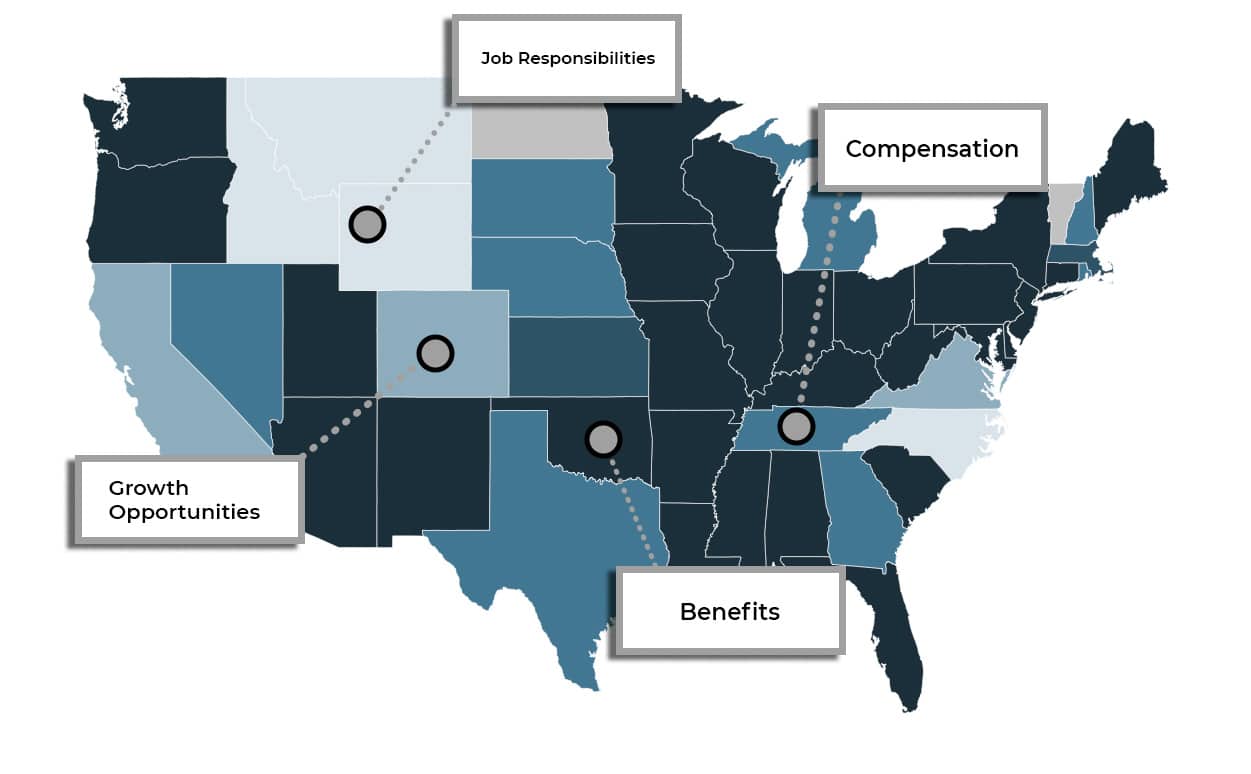 Understand Your Strengths & Weaknesses As A Hiring Organization
As an employer branding consulting agency we help you ask the question:
What do employees in my geography want from an employer?
What makes one employer more attractive than another in my industry? These are the kinds of insights and questions that our SWOT analysis for recruitment purposes can help your HR and leadership team answer.
Stop losing out on great job candidates because you lack the insight and clarity around your organization's value proposition. Does your company have a great culture? Does your workforce foster collaboration and growth? Figuring out what makes your organization special, through the lens of an objective third-party, unlocks new marketing and employer branding angles your organization can pursue.
Develop An Attractive Employer Brand Tailored To Data-Driven Preferences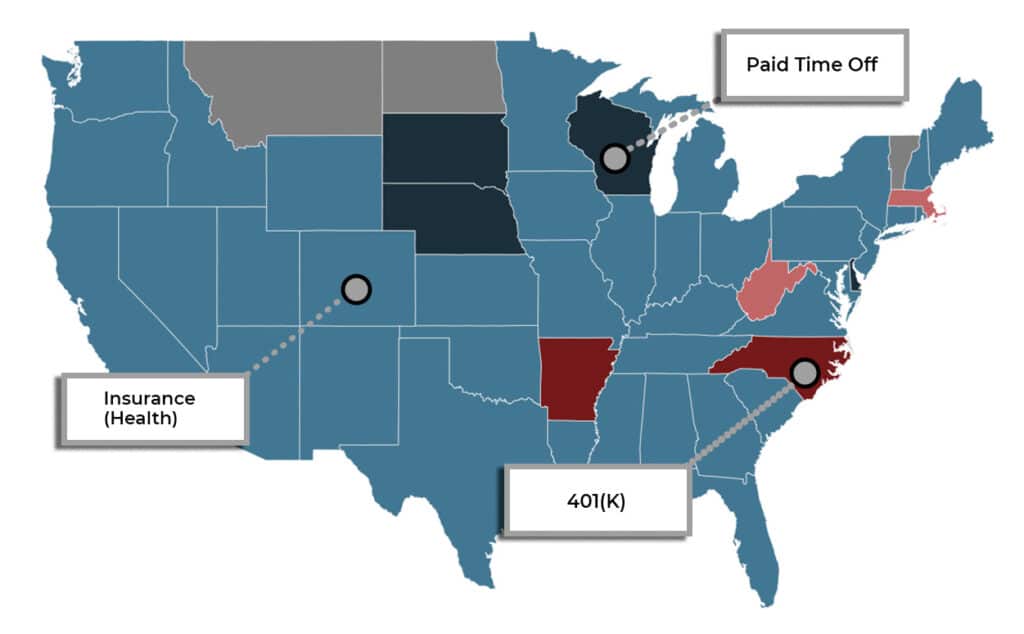 Leverage our comprehensive suite of market research and surveying tools to understand exactly what talent in your geographies and industries are expecting from their employers.
Do workers near you prefer retirement benefits over vacatime time? Do they value health insurance more than flexible work schedules?
Understand what makes workers tick in your area so you can build relevant employer brands.
Why You Need To Understand Your Employer Brand
Fewer differentiating factors for organizations participating in today's full-contact competition for the best talent are as important as the establishment of a clear, precise, and attractive employer brand.
When it comes to employer branding consulting services, it's crucial to understand why employer branding is important? Because it serves as the north star for everyone who interacts with your organization in a human capital capacity – candidates, employees, hiring teams, executives, and everyone in between. The right employer branding strategy helps set a narrative that draws the right talent to your organization such that you can unlock growth is an invaluable competitive advantage.
---
Data-driven insights
Workers between the ages of 18 and 24 living in the Midwest care more about growth opportunities with an employer than compensation.
---
How do we unlock growth through employer branding and recruitment marketing?
Today's talent market is as competitive as it has ever been. Employer branding strategies are more important than ever. Despite global economic uncertainty, businesses are posting 'For Hire' signs left and right – all needing talent to fill vital, mission-critical roles to help the business survive and thrive.
Our blend of digitally-driven and creative strategies to recruitment marketing and employer branding establish our clients as the best-in-class places to work – crucial in today's competitive hiring environment.
The best talent will only work at organization's that they deem as relevant, important, and supportive of their personal and professional goals. As a leading employer branding agency, we help you with this.
Backed by insights from more than 20 years of executive search, digital marketing, career services, and market research experience, we pride ourselves on delivering creative and pragmatic solutions to the unique requirements and concerns of our diverse clients.
---
Data-driven insights
The desire to lead a bigger team falls as workers progress through their careers. 23% of Millennials list managing bigger teams as motivation to climb the career ladder, compared to only 10% of Gen X.
---
What Are Some Employer Branding Problems We Solve?
How do we lower our turnover rate?
One of the top items we get contact for is to help companies lower their voluntary and involuntary turnover rate. Through analysis we can help you better understand why people leave and help you develop a culture and strategy that increases employee tenure. There's not a single company that isn't dealing with this in the post covid world of quiet quitting and constant job hopping. Let Daggerfinn help you develop a plan to change that.
How do we unlock our employer brand through online reviews of our employee experience?
Positive and negative reviews from current and past employees are a major indicator of the health of an organization's employer brand. Some 55% of job seekers have abandoned a job application after reading a negative review.
How do we lower our cost per hire for new employees and improve our employee onboarding experience?
The way future employees feel about your organization during the application process is crucial to building a great employer brand. We help set strategies that lower cost per hire and improve candidate experience so organization's build long-term sustainability.
How do we stand up a leading employer value proposition (EVP) and stand out in our industry?
What does your organization stand for? What is your brand as an employer? We help build a clear vision and focus for your organization's EVP so you can build orbiting strategies that are on-brand and consistent.
How do we attract more qualified, higher quality candidates to our open job opportunities?
A business can only scale when the right talent is in place to execute audacious strategies. We craft comprehensive employer branding solutions to help organization's attract better candidates, capable of taking your organization to the next level.
How do we expose the great job opportunities that are available at our organization to a greater pool of talent?
Your organization is growing, and you have lots of great opportunities for employee growth and achievement. We help build comprehensive job exposure campaigns so the right candidates know of your organization's great opportunities.
How do we engage our employees to improve company culture especially during work-from-home times?
Work-from-home dynamics have changed work for good, and a primary struggle for organization's is maintaining culture in the virtual environment. We help establish culture-building best practices and tactics so your organization remains the best place to work in your industry.
What is the best way to showcase our team to improve our chances of winning clients and driving business results?
In today's digital world, credibility and trust with clients is built through your staff's online presence first and foremost. We help organization's look the part and build the online reputation that helps clients engage faster, and close more efficiently.
Additional Comprehensive Employer Branding Consulting Services
Brand Audits
Looking to invest in your organization's employer brand? A comprehensive brand audit is a great place to start. Our team will conduct a data-driven deep dive into your firm's current state – through surveys, on-site interviews, and branding analysis – identifying areas of improvement and opportunities for better results. Our team will also provide competitor benchmarking so your organization understands the competitive landscape.
Employer Value Proposition (EVP) Development
An essential aspect of building a positive employer brand is to fully understand your organization's employer value proposition (EVP). What makes your organization different as an employer? Where are your core competencies? What can be promoted? We will analyze and guide your organization's EVP development efforts – and assist with messaging frameworks, visual direction, activation planning, and on-going maintenance.
Reputation Management
As an employer, your reputation is everything. In fact, 52% of job seekers admit to reviewing Glassdoor prior to making an employment decision. More than 79% of job seekers use social media to scout a company before accepting an offer. Our team will develop a reputation management plan for your organization that encompasses social strategy, content management, and internal / external initiatives to ensure that your organization's reputation is managed is a sustainable manner.
Recruitment Marketing Plans
Attracting the right talent at the right time is pivotal to an organization's long-term success – and developing sustainable programs that your organization can use is important. Our team will develop sound recruitment marketing plans – which are easy to follow and sustainable – so your organization can have full confidence in attracting, engaging, and ultimately, hiring the right candidates.
Internal Employee Appreciation Plans
A solid employer branding strategy starts with understanding and appreciating your current team members. Don't have employee appreciation programs in place currently? Our team will work with your organization to design and implement sustainable employee appreciation programs that invite your team members to go 'above and beyond' while receiving recognition and incentives that are shareable.
Content Creation & Social Strategies
There is no better way to reach out to future employees than through engaging content and social media. Close to 80% of all job seekers will vet a company's social media presence before accepting a position. Our team will craft a comprehensive content and social media strategy that leverages your current employee appreciation programs and showcases your organization in the best light. We help you get noticed.
Employer Brand Consultation
Whether your organization is analyzing your current employer brand or looking to take the next steps in developing a more attractive employer value proposition, our team can help. With an employer brand consultation, our team will dive into the current state of your organization's employer brand and develop an action plan to help take your employer brand to the next level.
Employer Branding Presentations
Have our team of employer branding and recruitment marketing experts present at an upcoming conference or talent acquisition event. Thought leaders on the employer branding space, our team can customize and develop custom presentations geared towards the goals and aims of your conference or event.